The Practical and Spiritual Priority of Leading Up
Leading Up is a series of posts that reveals wise ways of winning with your boss.
Peter Drucker, the father of modern business management, says this:
"There is nothing quite so conducive to success as a successful and rapidly promoted superior. So effective executives make the strengths of their boss productive."
The ancient wisdom writer says this:
"My child, fear the LORD and the king, and don't associate with rebels. For you will go down with them to sudden disaster. Who knows where the punishment from the LORD and the king will end?"
-Proverbs 24:21-22
Whether it's to avoid calamity or to enjoy rising fortunes, both voices link success to one thing: being on the right side of your supervisor. To do this, you need a basic understanding of what makes your boss tick, clarity around what really matters to them. We are using the following taxonomy to understand boss profiles. Few bosses fit neatly and exclusively into one of these boxes; however, each mode of operating reflects a different motivation on the boss' part and a chance to win or lose points with them in the way you work and relate.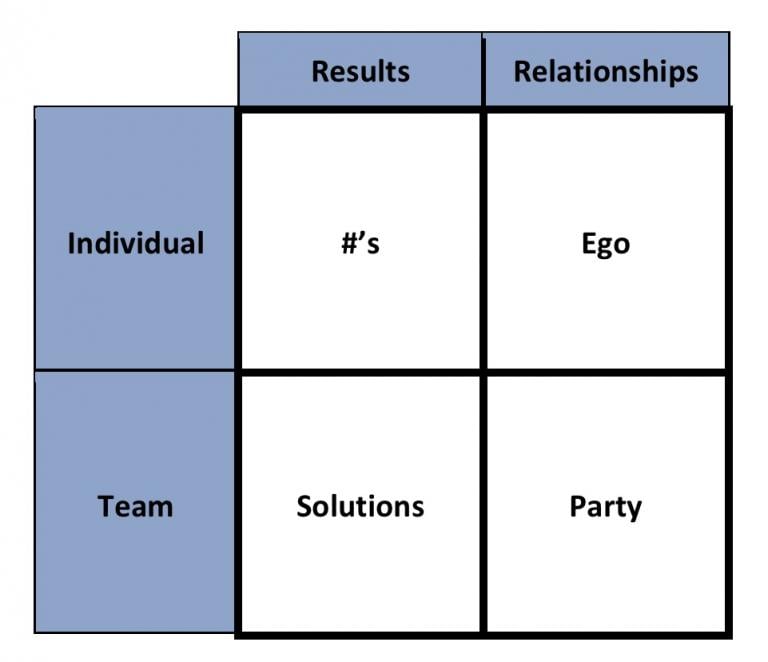 We began our posts with strategies focused on individually-oriented bosses. These types come to the work task as the smartest, committed individual contributor in the room. You can read more about what makes these types tick and how to adapt to win, here. In this post, we move to the team-oriented bosses.
These bosses are group-oriented: they see themselves as part of a team or working community. And there are two very different patterns here. We begin with the relationship-oriented bosses. They see themselves at the center of a great big work party.
Party: Party bosses love the center of attention in the middle of team events and celebrations. They long to know that everyone is having a good time. The company holiday party or the offsite dinner is perhaps their favorite event of the year. It is not that they don't care about results, but at the same time, they want to keep up the image that this is one big happy family. In larger organizations, a key tell that your boss is a party boss, is that they positively compare themselves to other supervisors in the firm. "Isn't this the best restaurant, so much better than the places so and so takes her people to." "Isn't it great that we are taking some time to kick back and celebrate, so and so's division is like a sweatshop, they need to relax."
Cardinal Sin: There are two cardinal sins with party bosses. First one, not showing up to the social functions that matter to them. Clear your schedule, even of business trips, when it's time for the company offsite or even just dinner with them. A second cardinal sin is jumping to business too fast. Some party bosses never want to talk business at social settings. Some will get to it. Let them be the boss; let them direct the conversation. NEVER be the one to initiate business talk at company celebrations.
Sweet Spot: Show up on time, be ready to relax and hang out.  This is the time to exercise your best go-with-the-flow skills. It is also a space to enjoy the boss' hospitality (but not overindulge). When you arrive, make sure you say hello and thank you to the boss right away. Then, mix with people in the room. You introverts out there, perfect your cocktail party survival kit, and come armed with 4 or 5 clear questions that you ask everyone.
Secret: A secret you should know about party bosses is this: they care about results too. They want you to take care of it, so the company is doing well, and you can enjoy their fiesta.
A second secret with party bosses has to do with the danger of over-indulgence. They want you to enjoy their hospitality; it feels good to share. But they're probably not going to be impressed if you gorge yourself on the shrimp cocktail or drink too much.
Practice: Given the sweet spot and secrets, there are two best practices.
Always be prepared with concrete and positive updates, regarding whatever you are working on. It looks like a party, and you need to relax. But it is a company party, and that means that your scorecard can be questioned at any moment.
Keep your appetite under control. NEVER eat or drink too much. This is a barbeque with friends. You are on display, and everything you do is being observed by your colleagues. Too much of a good thing really isn't good. Party bosses can be a lot of fun to work with, especially when you know the truth: it's not party all the time, we only get to kick back when we are winning at our work.
And everyone winning is a vital concept in understanding of the last boss on our matrix, the solutions boss.
Solutions: Solutions bosses want the team to win, and they want you to contribute to victory. They are results-oriented, and they know that it takes the best of the whole team to win. Solutions bosses choose real-world results over relational impressions, and they also value a team-oriented process—from beginning to end—rather than a hyper-individualistic, winner takes all mindset.
So we find a compelling mix of realism and relational skills in their profile.
Cardinal Sin: There are two cardinal sins with Solutions-oriented bosses.
Solutions-oriented bosses hate criticism that doesn't include an affirmation of what's working and concrete solutions. Criticism in isolation is perhaps the most unproductive "contribution" they can imagine.
Individualistic advancement over contributing to team victory is the second cardinal sin to the solutions-oriented boss. Even if they work for a very transactional corporation, these supervisors are "all for one, one for all" types. A crass desire to advance your own ambitions, especially at the expense of the team, is a significant black mark in their eyes.
Sweet spot: The sweet spot for winning with the solutions-oriented boss is practical suggestions that make the team better. Lead with an optimistic frame. Make sure you have a plan for making good on or exceeding your own deliverables, and never, ever criticize without a suggestion regarding how to turn that challenge, problem, or weakness into an opportunity.
Practice: Most of us have opinions about what is wrong at work. If we have a boss who is hungry to be their best, she will regularly ask us what we think. This is great, but also a potential trap. Learn to get into the habit of pre-thinking your response. Every criticism is not worth sharing. Here are 5 questions that serve as a test for deciding which to pass on:
What is the clearest, shortest, most compelling way to summarize the issue?
What is at stake for the team's performance and our careers with this challenge?
What steps must be taken for this problem to be solved?
How would the solution make the team better and drive better performance?
How can I contribute to this solution?
Check yourself before answering, make sure you are clear and convinced it's worth burning time with your boss to share your diagnosis and cure.
Secrets: One of the compelling secrets about solutions-oriented bosses is that they don't just want you to make the team better; they also will ask for feedback, so you can help them be better. Some questions to ask yourself about your boss (adapted from Peter Drucker's classic, The Effective Executive):
What is my boss's greatest strengths, and how can I help him build on them?
What does my boss need to get from me to perform?
What is the best way to deliver information and requests to my boss given their preferences of timing, format, and tone?
I think solution-oriented bosses are the best to work for if you can find them.
Tuning up your interview questions, so they accurately diagnose leadership style and company culture is the key to identifying your boss' type before you take the job.
How About You?
Which of these categories best describes your current boss?
Based on the approaches espoused in this post, what have you been doing wrong, what have the consequences been, and what will you do differently tomorrow?
If you are a boss or become one someday, which of these types best describes you and why? Which do you aspire to be and why?